Apr 2018
Delighted to have a two double page feature in the latest edition of fLIP magazine. The theme of this issue is
Memories
which is a perfect fit for the vintage postcard theme of Having a Whale of a Time.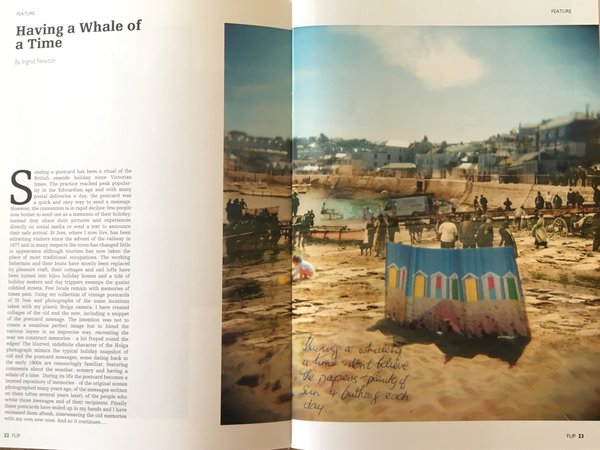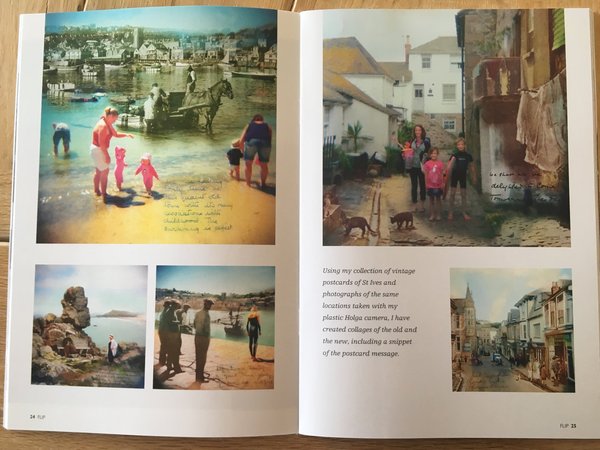 This year's annual London Independent Photography Central Group exhibition will take place once again at Espacio Gallery in London. Over 20 photographers will be filling both floors of the gallery with a diverse array of work on the theme of
The Space Between
. I will be showing 7 limited edition framed prints from the Having a Whale of a Time series together with the accompanying handmade book.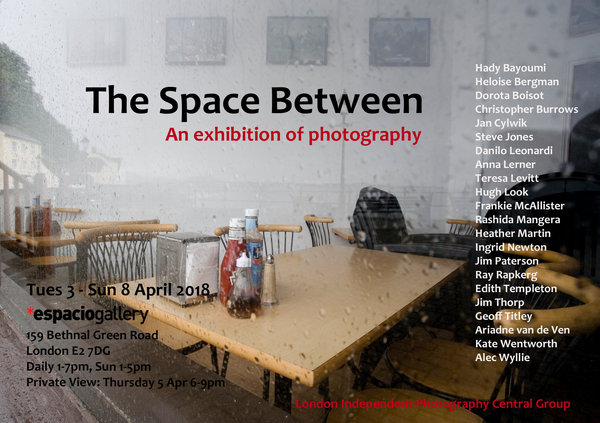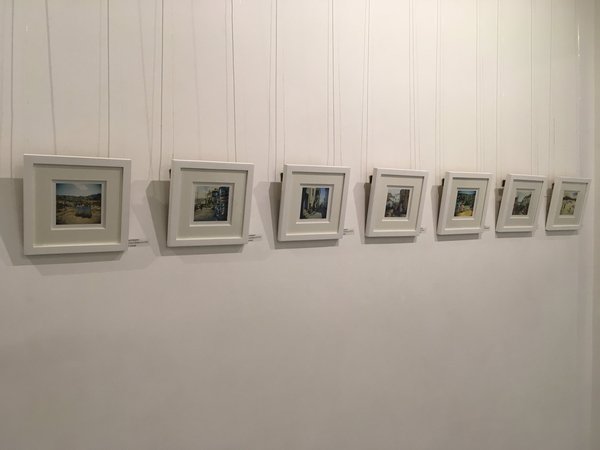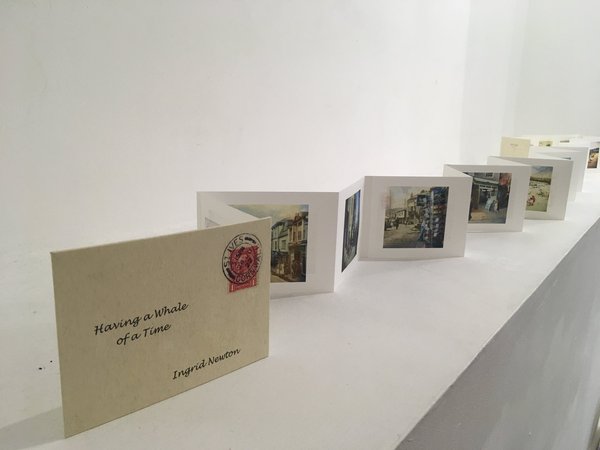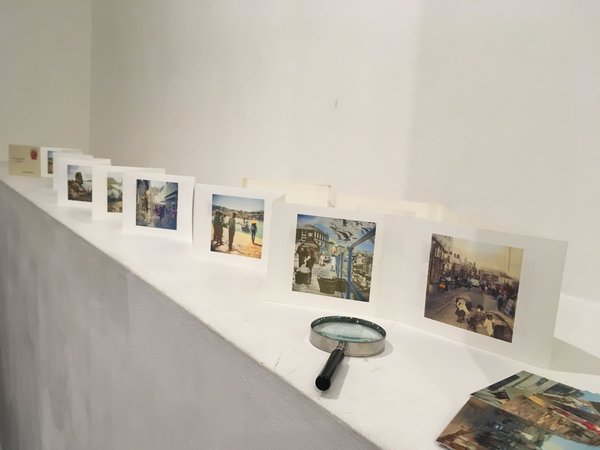 Feb 2018
I have been working on a handmade concertina photobook of the Having a Whale of a Time series. The book features all 22 pictures in the series with the original postcard messages on the rear and opens out to a whopping 3 metres plus in length! Printed on double-sided Awagami Washi inkjet paper it measures 15×11 cm. Full details and more photographs in the books section of the website.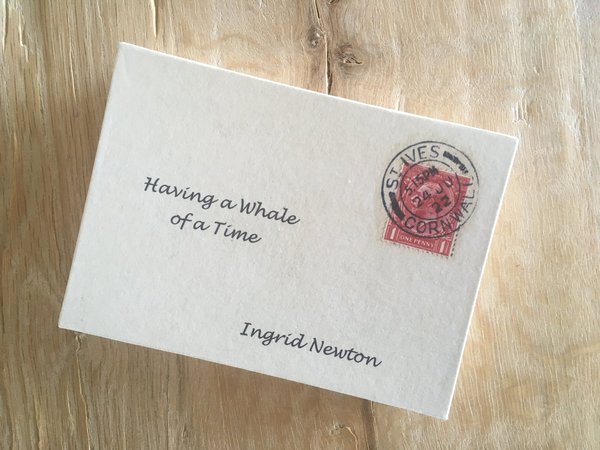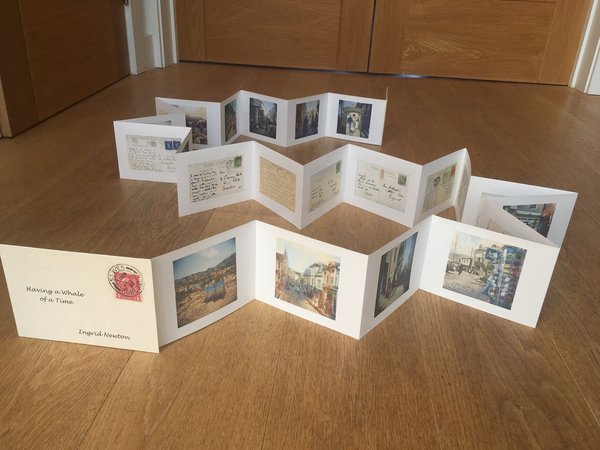 Sep 2017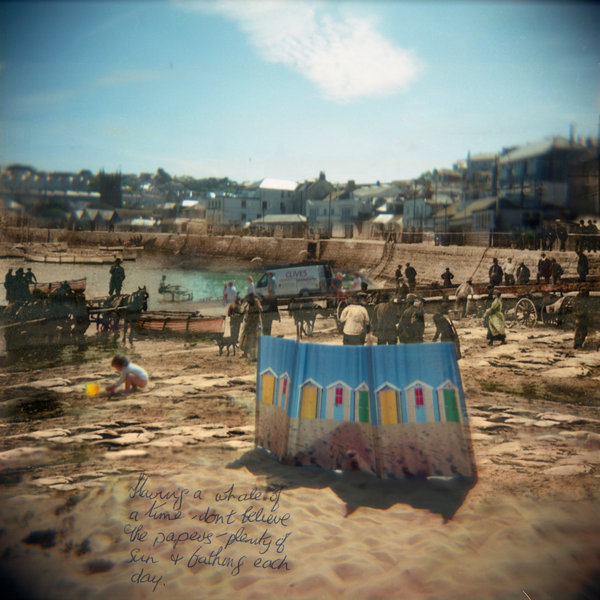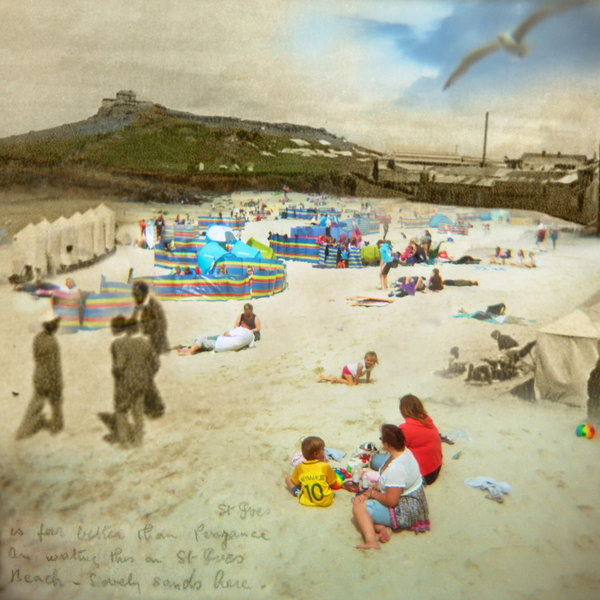 Very excited to hear that the two images I submitted to this year's Royal West of England Academy 165th Annual Open have been accepted and hung. This is the first time that my latest project has been exhibited so I am particularly pleased to be taking part in such a prestigious event. The exhibition runs from 1st Oct to 3rd Dec at the
RWA
, Queen's Road, Clifton, Bristol
BS8 1PX
Aug 2017
I attended a cyanotype workshop this month at Hayle Heritage Centre, run by Josie Purcell from
Shutterpod
– a local community photography organisation in Cornwall. Josie specialises in the cyanotype process and after a brief historical overview we got stuck in straight away. Compared to the complexities of producing a decent salt print, I was surprised at how relatively simple the cyanotype process was. Here are the results of the morning's work…..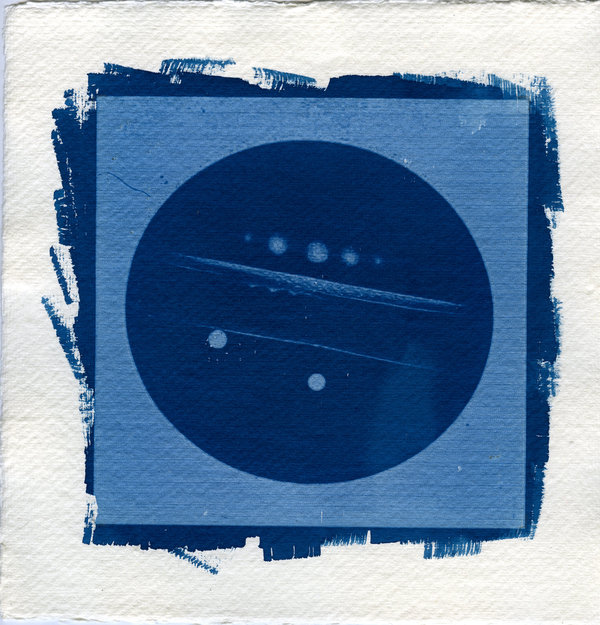 The process lends itself particularly well to the photogram technique where the object placed on the sensitised paper shows a white outline against the blue. The colour itself is the most extraordinarily intense blue and although not suited to all images would certainly work with my Strandline series. I find all alternative processes fascinating and am inspired to experiment further.
July 2017
The summer edition of fLIP magazine with the theme of
Storytelling
is out now featuring my exhibition preview of Gregory Crewdson's
Cathedral of the Pines
at the Photographers' Gallery.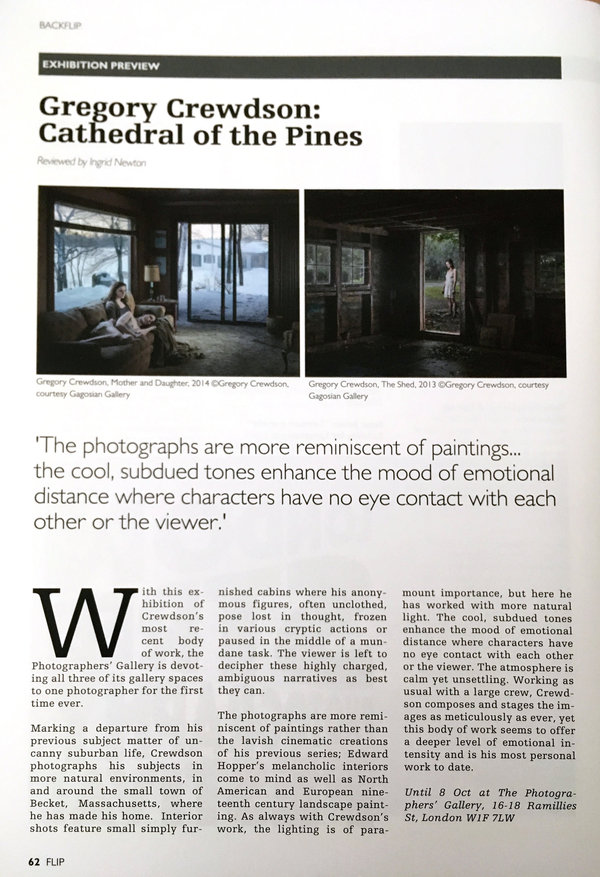 Feb 2017
My latest series of salt prints
Strandline
will be on show at this year's London Independent Photography Central Group annual show at Espacio Gallery, Bethnal Green Road, Shoreditch, London running from 21 – 26 February. The show, entitled
HERE
, features eighteen photographers exploring in very different ways what it means to them to have a camera as an anchor in the here and now.
Sep 2016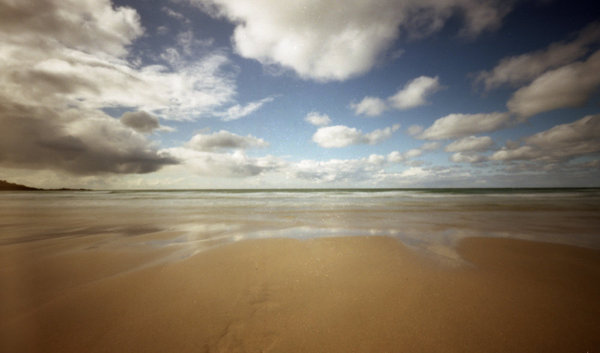 After 21 years living in my present home, I am relocating to the far west of Cornwall this month. Photography projects will be taking a back seat for a little while until I get a darkroom up and running!
Jan 2016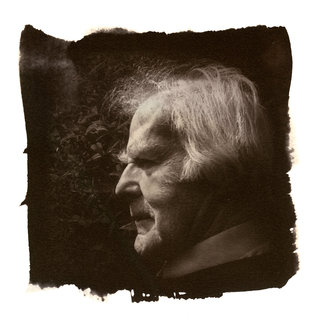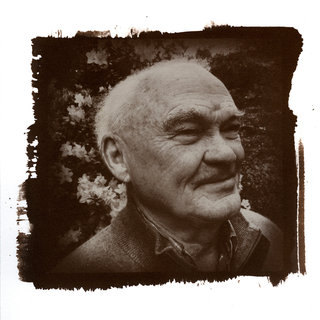 Two of my
In Praise of Older Men
salt prints – Jim and Phil – have been selected for the biennial Ironstone Prize at Banbury Museum. The exhibition runs from 23rd Jan until 12th March 2016
November 2015
I am showing a selection of my
In Praise of Older Men
salt print series at
Photography Matters
– the annual London Independent Photography Central Group show at Espacio Gallery, Bethnal Green Road, Shoreditch, London. The show is on for the week 30th Nov – 6th Dec 2015.
The winter edition of fLIP magazine, with the theme of
Illusion
, is out this month. I have a double page spread featuring an article on self portraiture as well as a review of 2 recent workshops I took part in learning the art of making handmade books.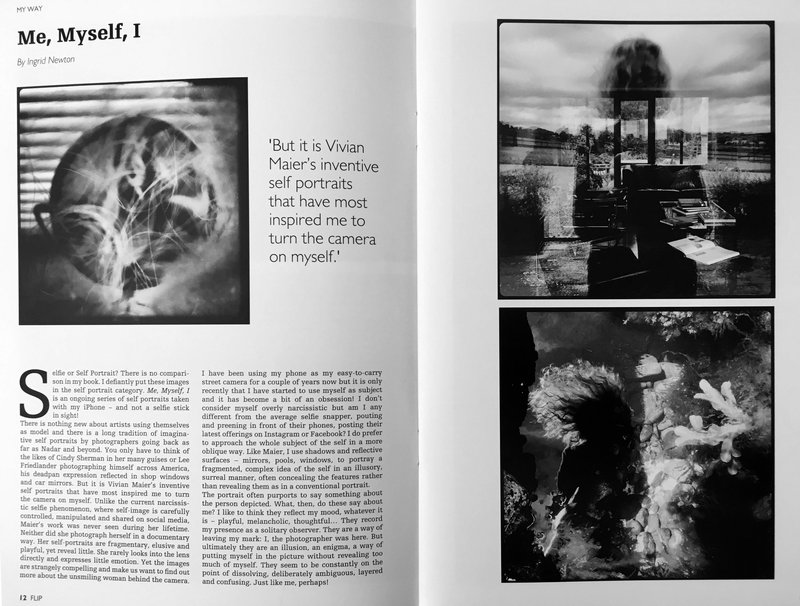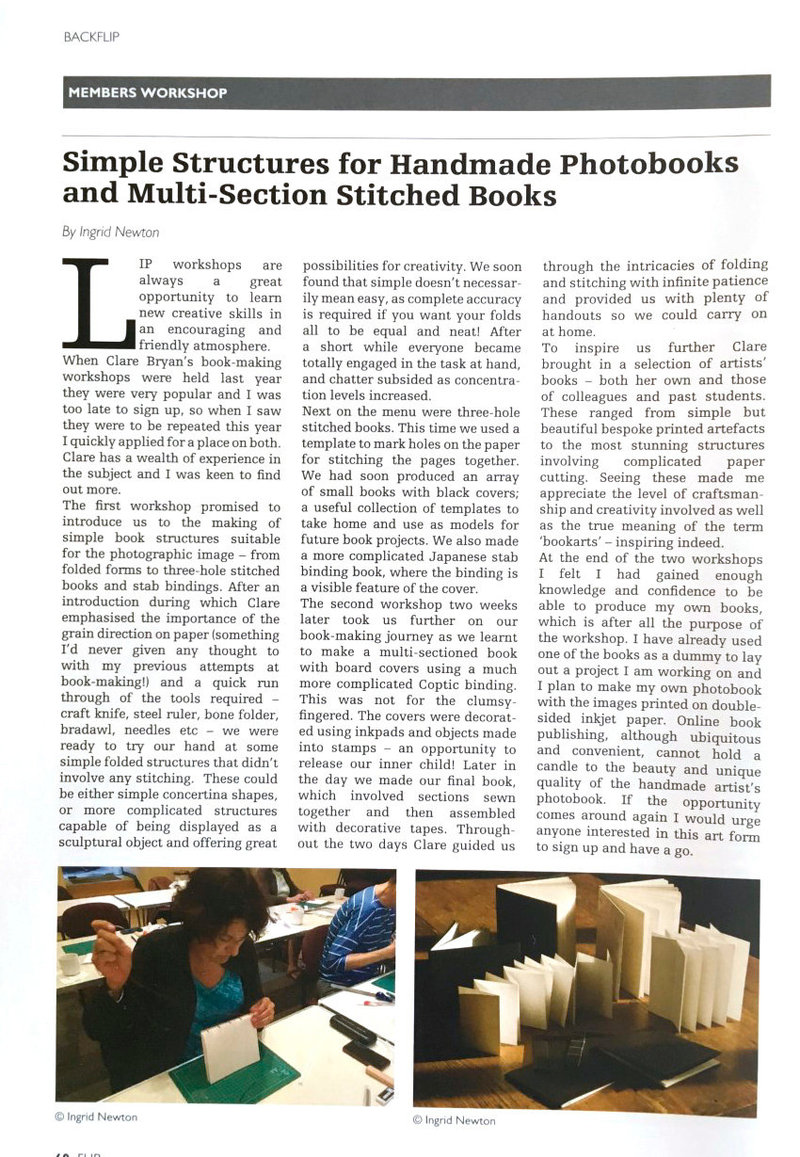 July 2015
The latest issue of fLIP magazine is out now with the theme of
Neighbourhood.
You can read my review of
Photofusion's
Salt Printing Workshop which I attended in April.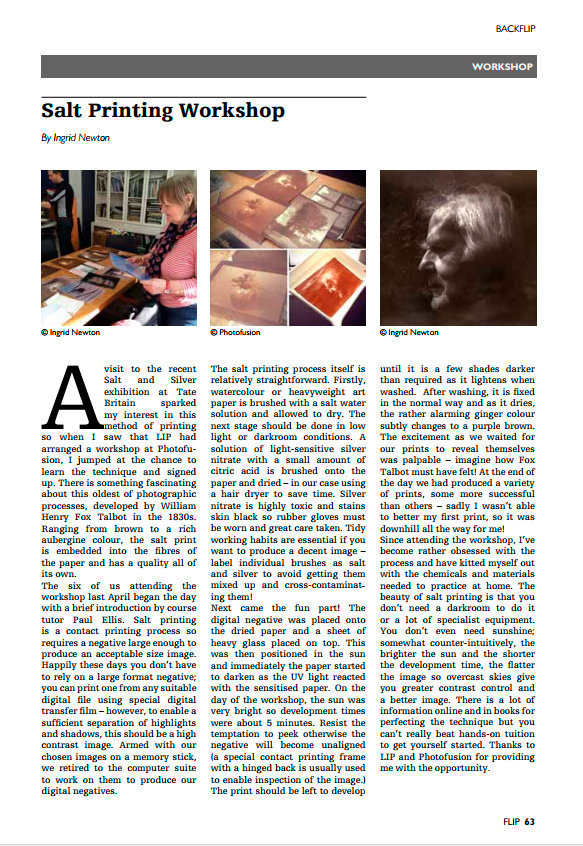 May 2015
My
Strange Country
series is being shown at the Seven Dials Club, Covent Garden, London in a mixed show called
One Stop London Photo.
The exhibition is on at the same time as Photo London. Runs from 21st to 24th May 2015.
Apr 2015
This month I took part in a Salt Printing workshop which was run by
Photofusion
in Brixton, London. After learning how to make a suitable digital negative we were shown how to coat the paper first with a salt solution followed by a silver nitrate solution. When dry, the negative is placed onto the sensitised paper, placed under glass and left in the sun for the magic to work! Results were variable but this image of my father was one of the more successful. I enjoyed the day so much that I intend to pursue the process further. Watch this space…....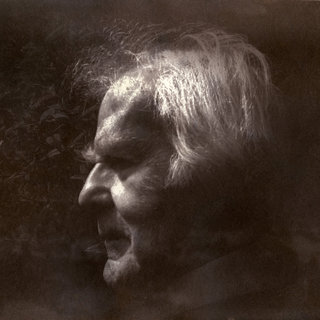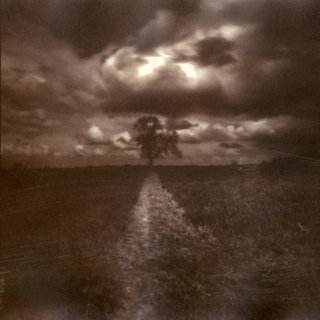 Mar 2015
I have two features in the Spring edition of fLIP magazine, published this month – a review of the latest exhibition at the Photographers' Gallery –
Human Rights, Human Wrongs
, and a book review of
Making Photographs
by Dr Mike Simmons.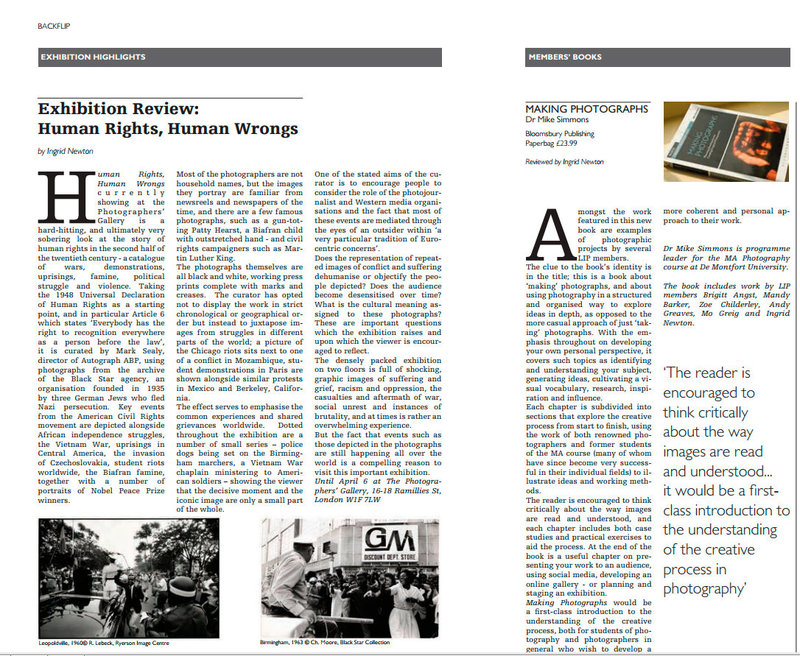 Feb 2015
The Swanscombe Project
is being shown at the Blake Gallery, Gravesend from 10th – 22nd February 2015
Nov 2014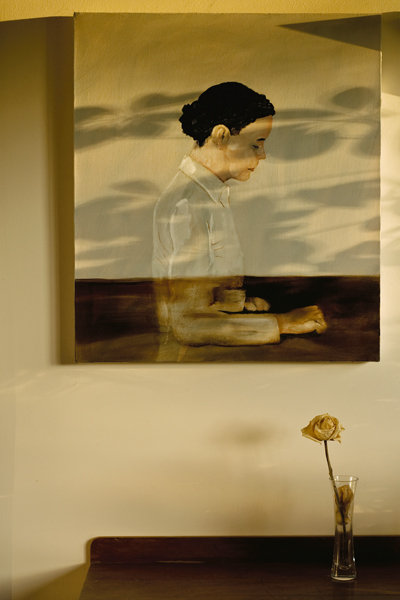 As part of Photomonth, the Central Group of
LIP
are holding their 3rd annual exhibition at Espacio Gallery in Shoreditch. I am showing 7 photographs from my latest project
An Accumulation of Days
. The Bleached Bones of a Story shows work where the everyday is transformed and imbued with new meaning.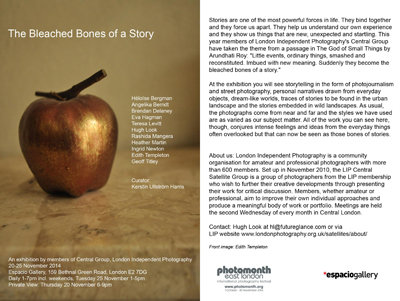 The exhibition runs from 20th-25th November 2014 at
Espacio Gallery
, 159 Bethnal Green Road, London
E2 7DG
Apr 2014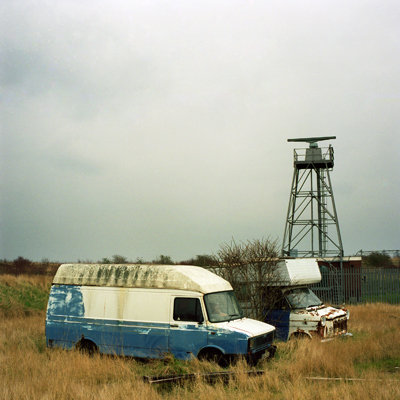 I have six images in
The Swanscombe Project
– an exhibition at Goldsmiths University organised by Crossing Lines. Sixteen photographers are showing a year's work asserting the character of a post-industrial landscape facing further change, with an account of the history and futures of the Swanscombe Marsh. My work for this project can be seen on my
blog
. The exhibition runs from 23rd April to 4th May at
NAB
Atrium at Goldsmiths, University of London, Lewisham Way, New Cross, London
SE14 6NW
Mar 2014
See the latest edition of fLIP magazine for my review of Giacomo Brunelli's exhibition
Eternal London
at the Photographers' Gallery. This issue's theme is
Connections
.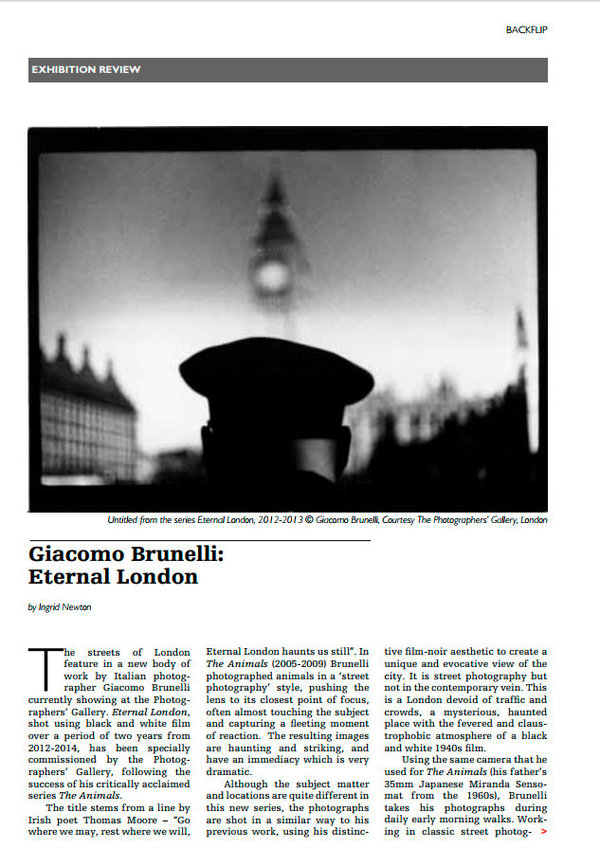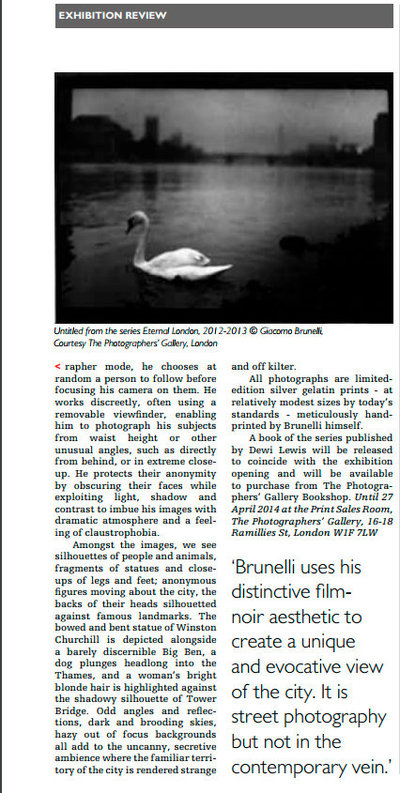 Dec 2013
Par Hazard
gets another outing, this time at Harrington Mill Studios at Long Eaton, near Nottingham. The exhibition is called
Stroll On
and is a mixed-media show on the subject of contemporary artists' fascination with walking as an inspiration for their art. The exhibition runs from 7th to 22nd December at Harrington Mill Studios, Leopold Street, Long Eaton, Nottingham
NG10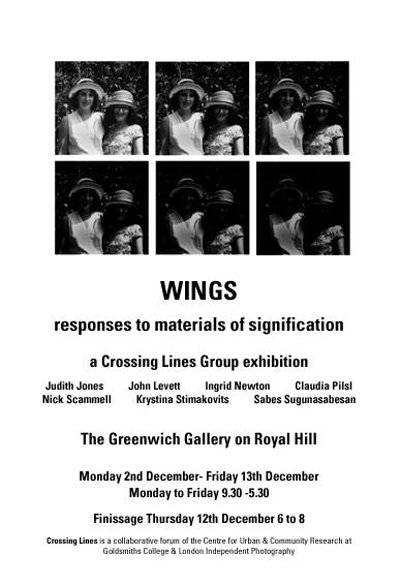 This has been a busy year for the Crossing Lines group. I am taking part in another small jewel of a show opening at the
RPS
Cave, The Greenwich Gallery, Linear House, Greenwich, London
SE18
.
The Wings Project
is yet another collaborative exercise where participants respond to a package of items sent anonymously from one to another over a period of a few months. The objects in the package range from visual material, small artefacts, text and poetry and the responses are varied, personal and some cases highly moving. Runs from 2nd to 13th December.
Nov 2013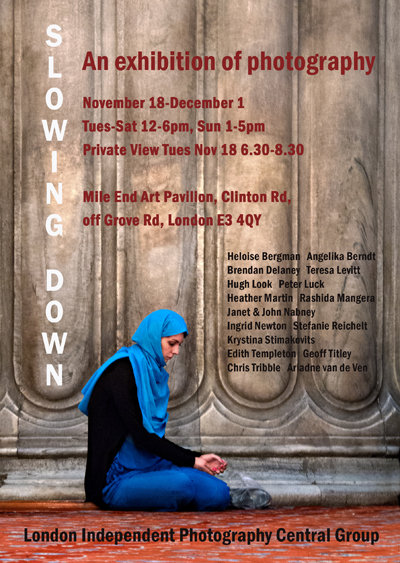 Six images from my
Leaving Home
series feature in this year's London Independent Photography Central Group Show at the Art Pavilion, Mile End, London E3. The theme this year is Slowing Down and the show runs from 19th Nov to 1st Dec. More information
here
The Crossing Lines collective will be showing work from
A Loose Traverse
in which twenty-six photographers spent over three weeks traversing London this summer with knowledge only of the route taken by the last walker. One photographer, one day, each day. From 2nd to 16th Nov at the Greenwich Gallery, Linear House, Greenwich, London
SE18
Oct 2013
Two of my images from the
Leaving Home
series have been selected for the upcoming
London Independent Photography 25th Annual Exhibition
at the Strand Gallery, John Adam St, London W1. The show runs from 22nd Oct to 3rd Nov.
Work from my Par Hazard series is featured in a joint exhibition with Rusch Media at the Original Gallery, Hornsey Library, Crouch End, London N8 from Monday 21st to Saturday 26th October
Nov 2012
One of my photographs from Book Three of the Par Hazard series has been chosen as the signature image to promote the exhibition
Chance Would be a Fine Thing
, a group show where 13 photographers respond to the theme of chance. I am showing 10 images from the series. Organised by the Central Group of
London Independent Photography
, the exhibition takes place at the Mile End Art Pavilion in East London from 13th-18th November and is part of London's Photomonth. More information
here
Oct 2012
For some time now I have been planning a new photography blog to take the place of the various blogs associated with particular projects now ended. Entitled
sight:lines
, the new blog is now up and running. I envisage it as a sort of online photographic diary, a mixture of image and text which will enable me to keep all my photographic stuff in one place and help me to work through my thoughts and ideas. I will continue to showcase particular projects and series on the website.
I am currently showing the entire Strange Country series at the latest collaborative Crossing Lines exhibition at the Greenwich Gallery @ Linear House, Greenwich, London
Further information about the exhibition can be found
here
Aug 2012
Four images from my Strange Country series have been selected for a group show at Art Jericho in Oxford. The theme of the exhibition is
Together
and runs from 23rd August to 15th September.
Another group exhibition I am participating in – the culmination of the year-long London Villages Project organised by London Independent Photography where over 60 photographers documented an area or aspect of London life. My contribution to the enterprise was the
Model Landscape
project from which one signature image will be shown. The exhibition opens at Goldsmiths University on July 30th and runs for one month.
There is also a book of the project available to order from the London Independent Photography
website
The current issue of fLIP magazine features an article about the Par Hazard project together with some photographs. The theme of the magazine is Games, to coincide with the 2012 Olympic Games. fLIP is on sale at the Tate, Whitechapel, Serpentine and Photographers Gallery bookshops amongst others.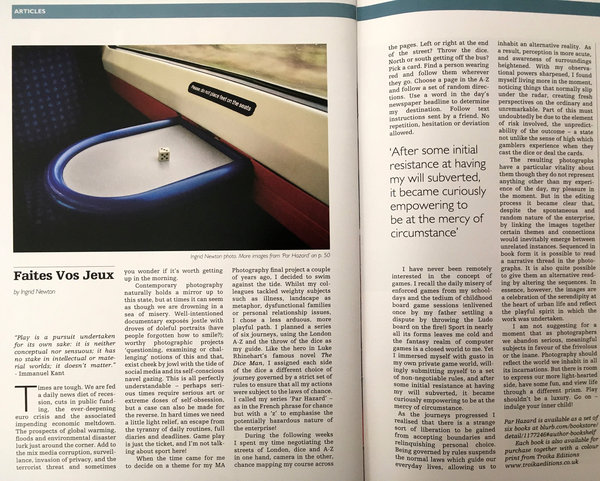 July 2012
I am taking part in an exhibition curated by members of the Crossing Lines group – a collaborative enterprise between London Independent Photography & the Centre for Urban & Community Research at Goldsmiths College. The exhibition is entitled Memorial and runs from 23rd July to 4th August at Linear House, Greenwich, London
SE10
At the beginning of the month I was fortunate to attend a most interesting and useful workshop led by photographer
Roelof Bakker
. The workshop was entitled
Working with Structures
and was aimed at photographers wanting to 'explore using rules and structures to create a project, body of work or series exploring a theme. Structures can be anything from working within a timescale, to using a (film) format, to concentrating on a particular space or location.' By the end of the session I was reminded of the importance of discipline and the liberation that can be gained from submitting yourself to its rules. I came away from it feeling reinvigorated and already thinking of some new ideas to put into practice soon.
June 2012
I've just published a new Blurb book called Hymn to the Hipstamatic – a selection of images taken with the Hipstamatic iPhone app which have appeared in my Hymn to the Hipstamatic blog over the last year. Available from Blurb.
My series Strange Country is featured in the April edition of
Square Magazine
- a bilingual online quarterly devoted to square format photography.
Mar 2012
Images from the series In the Midst of Life can be seen in an online feature in the current Spring 2012 issue of
fLIP magazine
on the theme of 'Incognito'. I also have an image, below, featured in the magazine itself, available to purchase from the
LIP
website.
The
London Villages Project
has now officially ended. A selection of each photographer's personal project will be displayed on the
LVP
website. A book of the project will be published in August 2012 to accompany a month-long exhibition featuring one signature image from each participating photographer. All images from the year-long shoot will be archived for public access and a 'banner' exhibition will tour London later in the year.
I intend to carry on with the Model Landscape blog on an intermittent basis to record the continuing work in the King's Cross area.
Oct 2011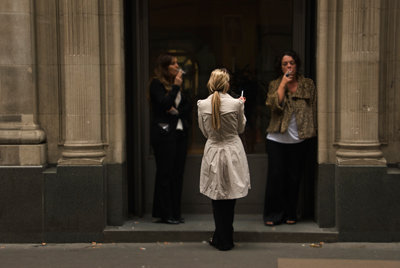 Some of my work will be on show at the
23rd Annual Exhibition
organised by London Independent Photography. The featured images, from a series I am currently working on _Unreal City document aspects of life in the heart of the financial district of the City. Work is selected by an independent panel of industry professionals and the exhibition runs from 18th-29th October at the Strand Gallery, London.
Sept 2011
I have now started a blog entitled
model landscape
to record my observations of the King's Cross redevelopment scheme for the London Villages Project. I will be adding to the blog on a regular basis until the end of the project in March next year.
Aug 2011
Several images from my
Life Goes On
series have been selected for a show at
Art Jericho
in Oxford. The exhibition, called 'Gardens of Oxford and Oxfordshire', runs from 25th August to 17th September.
Press release from Art Jericho about the Gardens of Oxford exhibition
:
"This exhibition began with invitations to people to submit images linked to the Garden theme. And here you have the result….From the Garden of Eden onwards, gardens have carried a powerful metaphorical freight. More than just enclosed growing spaces, they reflect the human world and its preoccupations. Just as gardens have traditionally provided space for meditation and for the inner life, so many of these images offer such metaphors.None of the exhibitors are professional photographers, but all the exhibitors are fascinated by image-making.You will see a wide range of photographic techniques, from darkroom work to digital capture, including experiments with various effects, such as the sepia print, the fish-eye lens, close-up details, and more. There are straight-forward "well-seen" images, quirky angles, layered effects, and even experiments with the form of the prints, moving away from standard sizes & shapes.Some of the gardens shown you will recognise, others are private. On the whole, the photographers have not been interested in a glossy and glamorised approach, such as might appear in a weekend supplement. Rather they are interested in conveying emotions: the awe and fascination evoked by the natural world, or else gardens images as a way of looking at human psychology. Thus images of gardens become portraits, even self-portraits. Some of the images are windows into our feelings of nostalgia, others celebrate our connection with nature, our imaginative interventions. Certain shared motifs emerged – shadows, water, overgrown spaces.Above all, there is a shining enthusiasm shared by the exhibitors and, we hope, by those who come to view."
Click on the link to listen to a podcast of an interview I took part in for
Londonist Out Loud
, discussing amongst other things, photographers' rights, the redevelopment of King's Cross and phone-hacking. The podcast is also available to download via
iTunes
Jul 2011
Work on my
Model Landscape
series continues and I now have quite a collection of images to sort through. A selection can be seen on the
projects page
.
Mar 2011
I have just started working on a new set of images for the
London Villages Project
, organised by
London Independent Photography
. The project brief is to provide an individual interpretation of what constitutes a London village – an area, community or corner of London which is defined by its own particular or unique character. My work will be centred on the King's Cross redevelopment scheme and the wider implications it may have on the surrounding area. The working title for the series is Model Landscape – a reference to the idealised, orderly view of the world presented in the artists' impressions which offers a stark contrast to the environment being redeveloped. The project will run for one year and an exhibition is planned at the end of it.
Feb 2011
My
london muse
blog has had a mention in the
Londonist's
Best of the London Blogs
. Hailed as 'Best New Discovery of the Week'...
"This new site is ostensibly a photoblog of the capital, but Ingrid's descriptions and eye for historical connections make this a smashing all-rounder. Drawing inspiration from literature and painting, she even manages to make the over-familiar St Paul's a subject of wonder once again. Maryon Park in Charlton is also well-trodden ground for London writers, thanks to its connections with Michelangelo Antonioni's 1966 film Blow Up. Ingrid's photo's explore key moments from that cult classic, with impressive sense of place and a certain air of menace. Top stuff."
Jan 2011
A new year and a new blog to kick-start my photographic inspiration:
london muse
where I will be investigating the idea of London as artistic muse for painters, photographers, writers, film-makers, etc etc
Nov 2010
The Par Hazard series of books is being promoted by
Troika Editions
, the online contemporary photography gallery showcasing "exciting and beautiful work by photographers with a pedigree. These are the next photo stars; they have won awards, published books and had exhibitions. We believe they are artists to watch in the future."
Each book is being offered with a 25×20cm print in an edition of 300 and comes with a signed certificate indicating its unique edition number. Click on the video below to see an interview where I explain the process behind the series.
Oct 2010
De Montfort University MA show opens on Sunday 10th Oct, running until Sat 16th Oct at Pedestrian Arts, 34-38 Rutland Street, Leicester
LE1 1RD
Aug 2010
Awarded MA with Distinction on the
MA
Photography course, De Montfort University, Leicester. The degree show will be held later in the year in October. Details to follow.
June 2010
Book Three from the Par Hazard series has been awarded Highly Commended in the _Brilliant Book Awards run by Ag Magazine in conjunction with Blurb Publishing. The book is featured in the Summer 2010 edition of Ag magazine.