Sep 2016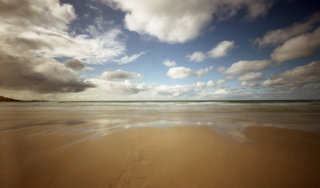 After 21 years living in my present home, I am relocating to the far west of Cornwall this month. Photography projects will be taking a back seat for a little while until I get a darkroom up and running!
Jan 2016
Two of my
In Praise of Older Men
salt prints – Jim and Phil – have been selected for the biennial Ironstone Prize prize at Banbury Museum. The exhibition runs from 23rd Jan until 12th March 2016
November 2015
I am showing a selection of my
In Praise of Older Men
salt print series at
Photography Matters
– the annual London Independent Photography Central Group show at Espacio Gallery, Bethnal Green Road, Shoreditch, London. The show is on for the week 30th Nov – 6th Dec 2015.
May 2015
My
Strange Country
series is being shown at the Seven Dials Club, Covent Garden, London in a mixed show called
One Stop London Photo.
The exhibition is on at the same time as Photo London. Runs from 21st to 24th May 2015.
Feb 2015
The Swanscombe Project
is being shown at the Blake Gallery, Gravesend from 10th – 22nd February 2015
Nov 2014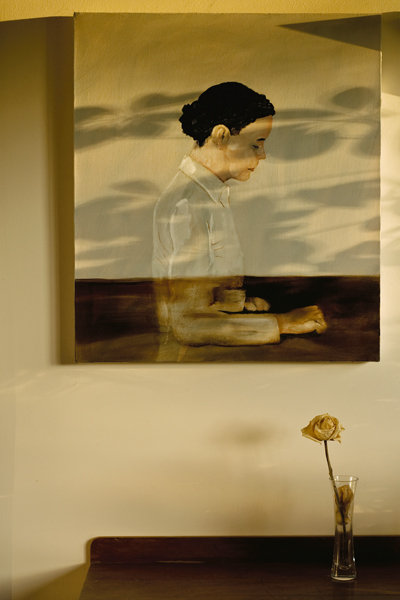 As part of Photomonth, the Central Group of
LIP
are holding their 3rd annual exhibition at Espacio Gallery in Shoreditch. I am showing 7 photographs from my latest project
An Accumulation of Days
. The Bleached Bones of a Story shows work where the everyday is transformed and imbued with new meaning.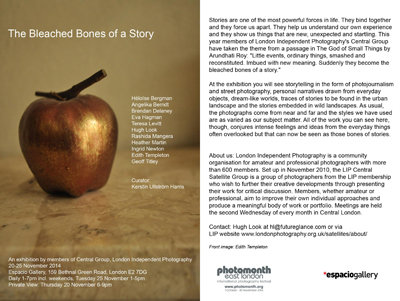 The exhibition runs from 20th-25th November 2014 at
Espacio Gallery
, 159 Bethnal Green Road, London
E2 7DG
Apr 2014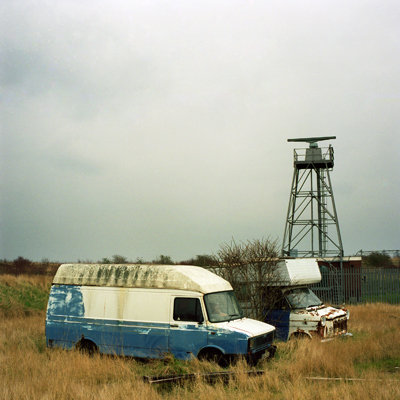 I have six images in
The Swanscombe Project
– an exhibition at Goldsmiths University organised by Crossing Lines. Sixteen photographers are showing a year's work asserting the character of a post-industrial landscape facing further change, with an account of the history and futures of the Swanscombe Marsh. My work for this project can be seen on my
blog
. The exhibition runs from 23rd April to 4th May at
NAB
Atrium at Goldsmiths, University of London, Lewisham Way, New Cross, London
SE14 6NW
Dec 2013
Par Hazard gets another outing, this time at Harrington Mill Studios at Long Eaton, near Nottingham. The exhibition is called
Stroll On
and is a mixed-media show on the subject of contemporary artists' fascination with walking as an inspiration for their art. The exhibition runs from 7th to 22nd December at Harrington Mill Studios, Leopold Street, Long Eaton, Nottingham
NG10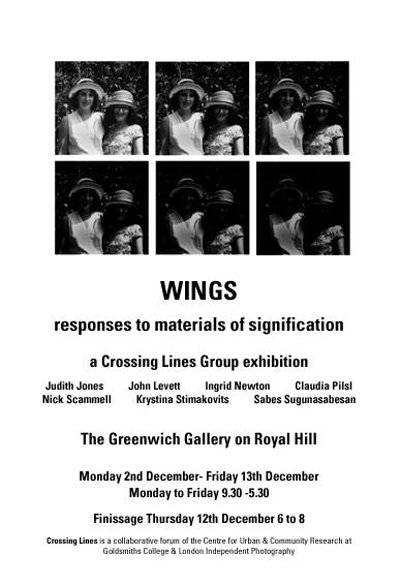 This has been a busy year for the Crossing Lines group. I am taking part in another small jewel of a show opening at the
RPS
Cave, The Greenwich Gallery, Linear House, Greenwich, London
SE18
.
The Wings Project
is yet another collaborative exercise where participants respond to a package of items sent anonymously from one to another over a period of a few months. The objects in the package range from visual material, small artefacts, text and poetry and the responses are varied, personal and some cases highly moving. Runs from 2nd to 13th December.
Nov 2013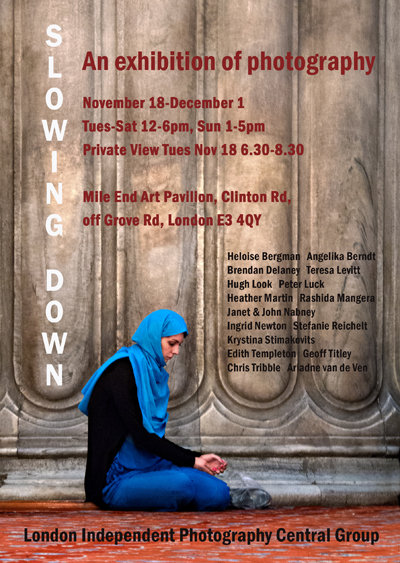 Six images from my
Leaving Home
series feature in this year's London Independent Photography Central Group Show at the Art Pavilion, Mile End, London E3. The theme this year is Slowing Down and the show runs from 19th Nov to 1st Dec. More information
here
The Crossing Lines collective will be showing work from
A Loose Traverse
in which twenty-six photographers spent over three weeks traversing London this summer with knowledge only of the route taken by the last walker. One photographer, one day, each day. From 2nd to 16th Nov at the Greenwich Gallery, Linear House, Greenwich, London
SE18
Oct 2013
Two of my images from the
Leaving Home
series have been selected for the upcoming
London Independent Photography 25th Annual Exhibition
at the Strand Gallery, John Adam St, London W1. The show runs from 22nd Oct to 3rd Nov.
Work from my Par Hazard series is featured in a joint exhibition with Rusch Media at the Original Gallery, Hornsey Library, Crouch End, London N8 from Monday 21st to Saturday 26th October
Nov 2012
One of my photographs from Book Three of the Par Hazard series has been chosen as the signature image to promote the exhibition
Chance Would be a Fine Thing
, a group show where 13 photographers respond to the theme of chance. I am showing 10 images from the series. Organised by the Central Group of
London Independent Photography
, the exhibition takes place at the Mile End Art Pavilion in East London from 13th-18th November and is part of London's Photomonth. More information
here
Oct 2012
For some time now I have been planning a new photography blog to take the place of the various blogs associated with particular projects now ended. Entitled
sight:lines
, the new blog is now up and running. I envisage it as a sort of online photographic diary, a mixture of image and text which will enable me to keep all my photographic stuff in one place and help me to work through my thoughts and ideas. I will continue to showcase particular projects and series on the website.
I am currently showing the entire _Strange Country series at the latest collaborative Crossing Lines exhibition at the Greenwich Gallery @ Linear House, Greenwich, London
Further information about the exhibition can be found
here
Aug 2012
Four images from my _Strange Country series have been selected for a group show at Art Jericho in Oxford. The theme of the exhibition is Together and runs from 23rd August to 15th September.
Another group exhibition I am participating in – the culmination of the year-long London Villages Project organised by London Independent Photography where over 60 photographers documented an area or aspect of London life. My contribution to the enterprise was the
Model Landscape
project from which one signature image will be shown. The exhibition opens at Goldsmiths University on July 30th and runs for one month.
There is also a book of the project available to order from the London Independent Photography
website
The current issue of fLIP magazine features an article about the Par Hazard project together with some photographs. The theme of the magazine is Games, to coincide with the 2012 Olympic Games. fLIP is on sale at the Tate, Whitechapel, Serpentine and Photographers Gallery bookshops amongst others.
July 2012
I am taking part in an exhibition curated by members of the Crossing Lines group – a collaborative enterprise between London Independent Photography & the Centre for Urban & Community Research at Goldsmiths College. The exhibition is entitled Memorial and runs from 23rd July to 4th August at Linear House, Greenwich, London
SE10
At the beginning of the month I was fortunate to attend a most interesting and useful workshop led by photographer
Roelof Bakker
. The workshop was entitled
Working with Structures
and was aimed at photographers wanting to 'explore using rules and structures to create a project, body of work or series exploring a theme. Structures can be anything from working within a timescale, to using a (film) format, to concentrating on a particular space or location.' By the end of the session I was reminded of the importance of discipline and the liberation that can be gained from submitting yourself to its rules. I came away from it feeling reinvigorated and already thinking of some new ideas to put into practice soon.
June 2012
I've just published a new Blurb book called Hymn to the Hipstamatic – a selection of images taken with the Hipstamatic iPhone app which have appeared in my Hymn to the Hipstamatic blog over the last year. Available from Blurb.